John Aylmer breaking in his allotment in style!
Chairman's Message
The Results of the April Daffodil Competition can be seen on the Members Photo page. Congratulations to the Peoples Choice Winner, Mary King. No Rose competition this month as we can't set it up online in time before the meeting.
If you would like to join the talk, you will have to join the Club (£6/year/person) - please send an email via our contact page in the first instance.
Spring on the way - snowdrops in Jim and Anne's Garden
15 January 2021
Woodham and New Haw Horticultural Club is a long established Club which meet in All Saints New Haw Church Hall, midway between Woking and Addlestone. We welcome members from all round the area, irrespective of where they live. Guests and visitors are very welcome as well. Our Club offers a variety of activities from convivial social evenings with talks mainly on a wide horticultural theme as well as visits to attractive locations in the summer months for people who often have had and, may still have, an active interest in gardening. Our highlight activity is our Show, open to all on the first Sunday in September.
​
​
On this website you will find details of our activities, the main part of which are the social evenings, which take place on 8 months of the year, when members get together to be entertained by quality speakers and to enjoy a sociable and friendly evening out. Included in the meeting is a delicious spread of homemade cakes, biscuits and refreshments!
In the warmer weather we organise full day visits by coach to gardens, castles, or historic houses of interest. Join us for a great day out on one of our Coach Trips
If space is available, you can bring friends with you - details are on the Coach Trips page.
​
You are very welcome to come along to our social evenings to see what the Club offers you. If you would like to join, New Members are always welcome and our Committee members will be happy to answer any questions you may have.
Latest News
Due the Covid-19 Virus Measures, the Club is meeting online using Zoom until further notice.
The Website has been updated with the detail of the Programme for 2021. It is an exciting programme - please come and bring your friends! All talks will be in the Church Hall of All Saints Church, New Haw and will start at 7.45pm when we are allowed physical meetings again.
​
Lifts
If you feel you would like a lift to the Club activities, please contact the committee using the form on the last page and we'll see what we can do.
​
Until the lockdown restrictions are eased and visits are allowed, the Trips for 2021 cannot be planned.We hope to be able to visit the National Trust properties below but until they can host group meetings again, no dates can be set.
​
Trip A, Chartwell
​
Trip B, Mottisfont
​
Trip C,Cream Tea at Longacres in Bagshot - note self-drive.
​
​
The 2021 Show is planned for the 5th September in the Byfleet Village Hall - see the Annual Show page and the Show Programme will be published in April. Till then, see the programme for the planned but cancelled 2020 Show to see the scope our Open Shows
The 2019 Annual Open Show was opened by the Deputy Mayor of Runnymede, it was a very successful day with an increased number of exhibitors and visitors in the afternoon
​
See the Annual Show page for 2019 Show Results Page and some pictures taken at the Show.
​
​
​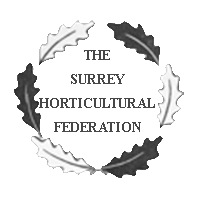 The Club holds a wide range of affiliations with British horticultural clubs and societies. Our current affiliations are listed below. Click on the Badge to follow the link to their website.
To enquire about potential affiliation with the Club please contact us.
Spring is here - 2020!
Gorgeous Magnolia soulangeana in Christina and David Ashdown's Garden